An innovative, technological and eco-friendly coffee machine: this is the coffee revolution of Caffè del Caravaggio!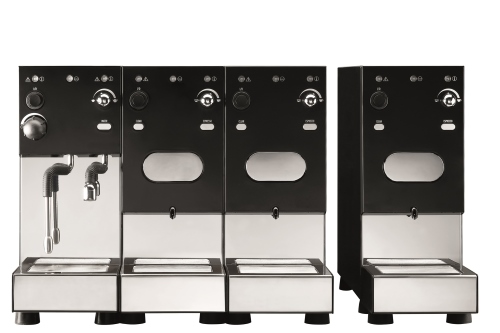 An exclusive coffee requires a unique machine that can prepare the best coffee at all times.
Caffè del Caravaggio has always wanted to make a real impact on the industry so it designed and patented a coffee machine from top to bottom, with several features that makes it simply incredible. The coffee machine of Caffè del Caravaggio is modular and can be set up and upgraded over time to meet the real needs of those who use it: stop wasting money, energy and space! When it's not used it can be safely turned off, returning to full operation in less than one minute. Pressure, temperature and all the parameters required for a perfect coffee extraction are controlled by an advanced internal microcomputer which, combined with the extreme simplicity of use, allows anyone to prepare an always excellent, creamy and flawless coffee.
Hygiene and easiness to clean are guaranteed, since the machine can clean itself, it requires no water connection and does not need a coffee grinder, because coffee is extracted directly from our ecological coffee pods. Finally, to meet all needs, we have also designed several interchangeable filters (Espresso, Americano with cream and Americano) to enable our customers to offer an amazing coffee for every taste.