Caffè del Caravaggio is on Bergamo a Tavola, the monthly magazine for those who love good local food in the Bergamo area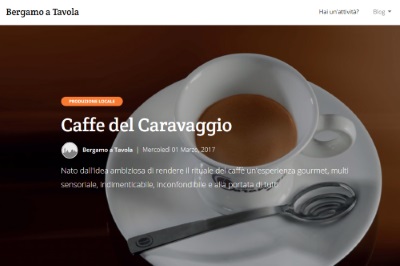 Bergamo a Tavola is a huge website which includes many restaurants, trattoria, osteria and wine bars located in the province of Bergamo and has recently published an interesting article about Caffè del Caravaggio.
The article describes our coffee division, part of Tenacta Group, and brilliantly explains our mission and our way of understanding the espresso coffee. There are several features that make Caffè del Caravaggio a unique and inimitable coffee: the choice of blends and single origins certified pure Arabica (including the most precious varieties in the world), the creation of the first coffee menu and our unique modular machine to prepare it at its best, with low energy consumption and maximum hygiene.
Anyone wishing to read the full article (in Italian language) and then take a tour of the most delicious and popular gastronomic activities of the rich province of Bergamo, can click here!