Coffee: better coffee pods or capsules? We have no doubt about it and we will prove it!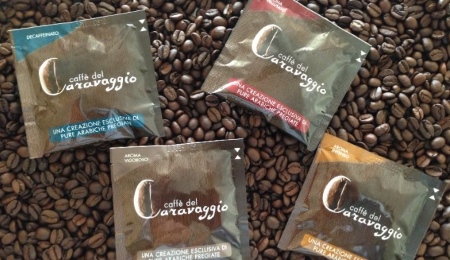 Since its establishment Caffè del Caravaggio made a very clear choice: quality without compromise. It is useless to patent the best coffee machine or choose the finest coffee in the world if then this value chain is broken by cheap containers that irrevocably alter the aroma.
At the same time, we have always felt insane to add even more pollution and energy consumption to a world that for years now implores us in every way to change course before it is too late. Those who chose plastic or aluminum capsules to distribute their coffee, do so knowing to keep alive a production cycle based on non-eco-friendly plastic and aluminum.
In contrast, ESE coffee pods (Easy Serving Espresso) are totally compostable, eco-friendly and have a unique characteristic that do not affect the final quality of the product. They fully guarantee the rule of 7 grams of coffee and they do not lose any aroma (as unfortunately it happens sometimes to read or hear erroneously), since they are hermetically sealed with nitrogen gas.
The extraction of coffee pods can respect the real espresso extraction parameters of 92 degrees and 9.4 bar pressure if done with a professional machine (like ours), while with capsule this is not possible; and this is the prerequisite in order to prepare a real espresso coffee: those who sell you the "real espresso in capsule" they cheat knowing they are cheating. Coffee lovers, do not have any more doubts: coffee pods is the best choice, and to continue to guarantee this, Caffè del Caravaggio carefully monitor and test each hour its coffee pods in its own laboratories. Try our quality to believe it ... and there will be no turning back.